Contact Us
For more information about fishing in the Dry Tortugas, please contact
Capt. Yuri Vakselis phone: (305) 797-6396
email: yuri@two-fishcharters.com
Directions to the Boat:
Pay attention to the mile marker signs heading South on highway US1. After passing mile marker 6, start
paying close attention. You will pass a Shell gas station on your right hand side around mile marker 5 1/2.
You will then pass a blinking caution light, get in the left lane and SLOW DOWN. Look for a Burger
King hidden off to the left. Make an immediate left after the Burger King. At the stop sign, go straight.
You are on Fifth Street. Go on to the next stop sign and you will be at a four way intersection of Fifth
Street and Fifth Ave., make a left. Make the next right onto Shrimp road, after passing Bernstein Park on
your right. Take Shrimp road down about 1/10 of a mile past the park on the right and apartment
buildings on the left. Right after passing the apartment buildings, turn left onto Boat Yard Row road. In
about 150 yards turn right on to the Perry Hotel parking lot and go straight to the (North) sea wall. Boats
are located down the ramp on floating dock A which runs parallel with the back of Perry Hotel and the
West sea wall.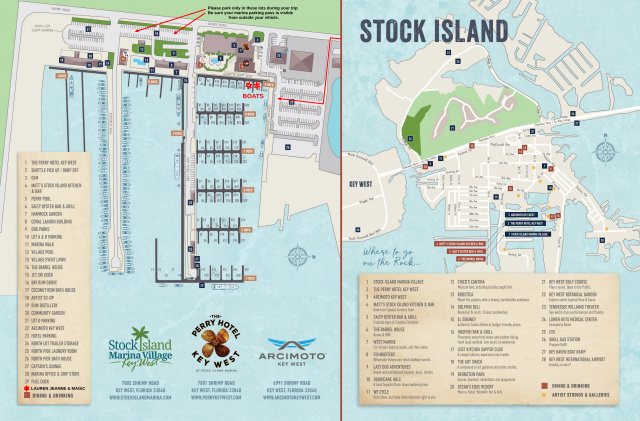 © Copyright 2005-2020 Two Fish Charters Inc.