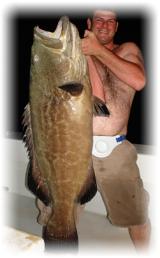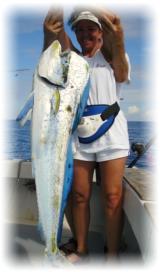 Imagine a fishing destination where on a single trip you can catch an extraordinary variety of world class game fish. You are about to discover the ultimate in salt water fishing adventure! There is only one way to experience the awsome fishing around the Dry Tortugas and that is aboard Two Fish Charters. Our highly experienced captains intimately know the area and how to find the trophy fish. We are the busiest charter fishing operation in the Dry Tortugas for a good reason!
Located about 75 miles West of Key West, Florida, the Dry Tortugas and Marquesas Keys area consistently treats anglers with an awesome sport fishing. The area is is surrounded by pristine coral reefs and is teeming with trophy salt water game species that rival any fishing destination in the world.
Where else can you experience drag ripping, knee buckling strike from a 50 lb.+ black grouper or a hefty mutton snapper? How about spectacular jumps of a big bull dolphin, a sailfish, or a drag screaming, blistering run of a wahoo? Yes, all this action and more can be experienced aboard Two Fish Charters on a single trip!
Our 50' custom built sport fishing catamaran provides a fast, roomy, clean and comfortable fishing platform. The live aboard accommodations will keep you close to all the best fishing areas for non stop, around the clock fishing action.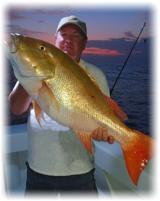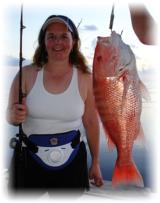 Dry Tortugas and Marquesas Keys are small, remote islands located 25-70 miles West of Key West, Florida. The Dry Tortugas islands and surrounding waters are a National Park. The Garden Key at the Dry Tortugas houses a pre Civil War era fort, part of which now doubles as a park ranger station. The fort was one of the largest man made structures built at the time. Both island chains are surrounded by shallow and deep water reefs, wrecks, and are a true anglers paradise. Because of the distance of the area from Key West, these reefs receive very little fishing pressure. A typical trip might include red, black, gag, yellow edge, yellow mouth, scamp and strawberry grouper. Also, snappers abound. Yellowtail, red, mutton, silk, mangrove, dog, and cubera snapper are a common catch. Of course king mackarel, cobia, porgies, and deep water species like snowy grouper and golden tile fish are also available. Tuna, wahoo, dolphin, sailfish and other pelagic can be caught trolling, or occasionally while anchored. Depending on weather, season, and client preference, we do reef,
wreck, deep ledge and deep drop fishing. Another option is offshore trolling.